Welcome to the Beautiful Marshall Islands!
---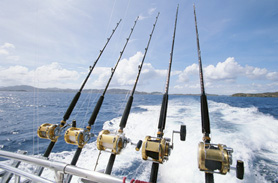 Hello and welcome to the Marshall Islands. Join us in Paradise where we would like to share her beautiful waters and friendly people with you!

Scuba diving is one of our favorite things to do. There are over 1000 species of fish to be found here with 250 plus species of soft and hard corals along with spectacular visibility. With the coral pinnacles, breathtaking drop offs and the channels teaming with large pelagics, it is no wonder that the Marshall Islands is our favorite place to dive.

The Marshall Islands are also known world-wide as a fishing paradise. All 29 atolls in the Marshall Islands offer excellent fishing. The Marshall Billfish Club on average sponsors a Fishing Tournament every month. The largest tournaments are: the Annual National Fisherman's Day Tournament held during the first week of July and the All Micronesia Fishing Tournament held in August.

The weather here is beautiful all year long and the water is warm and sparkling clear. There are many WWII artifacts and wrecks that can be explored both above and below the water.

Let us arrange a trip that fulfills all your diving, fishing and exploring needs. We specialize in multiple day charters to dive and fish the outer islands. We can show you the finest that Majuro and it's sister islands have to offer. Our team has extensive experience diving and fishing within the entire Marshall Islands including over 10 years of exotic dive travel and fishing throughout the Pacific.

Let us show you the beautiful Marshall Islands that we know and love.