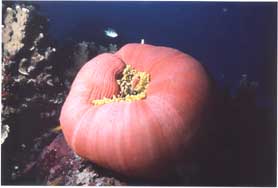 Dive Marshall Islands:

Tired of having to share dive sites with 15 tourists or getting up before dawn to be at your favorite site before someone else scares away all the fish? If this sounds familiar, it's time to head towards Majuro and its surrounding outer islands located in the Marshall Islands.

On the other side of the International Date Line, the Marshall Islands gently boasts 84 degree clear, flat water, acres of hard and soft corals, giant clams with blue and green lips, and an abundance and diversity of Micronesian tropical fish.

A close 5 hours southwest of Oahu, Majuro exists as a nearly circular necklace of islands around a classic blue lagoon. The lagoon includes some superb coral pinnacles and also provides a safe harbor for transhipment fishing boats. Nearly untouched by contemporary urban life, smiling ladies in baggy dresses sell their hand-made woven baskets and jewelry from a tin-roofed plywood garage. Plants once abundant on Oahu, such as pandanus, naupaka and breadfruit, line the single lane crushed-coral street, walked by the smiling but shy residents with their friendly tongue-dragging dogs.

Yokwe Divers and Wildfire Sports Fishing is professionally owned and operated with PADI and SSI Instructors and Divemasters from the United States and Canada as well as several soft-spoken Marshallese boat crew. Yokwe Divers and Wildfire Sports Fishing takes you to the best sites which include walls, wrecks and reefs, snorkel sites as well as Marlin outings. Our well-designed boats are comfortable, fast fun and user friendly.
The virtually unexplored outer islands and atolls of the Marshall Islands are places you won't want to miss. In addition to our excellent dive excursions around the waters of Majuro and Arno, we also offer trips to the remote atolls of Mili, Jaluit, and Rongelap on the only liveaboard in the Marshall Islands.

Accommodations can be booked through us at discounted rates at Outrigger Hotel, RRE Hotel, or on board our vessel which sleeps 9.

Sunday's we take our visitors to a local community picnic on one of the undeveloped islands. The picnic extends into the water where dads, moms and kids hang out between heads of soft corals guarded by clown fish and emperor angelfish.

Join us for an adventure of a lifetime!

Let us plan your next trip complete with hotel accommodations, airfare from Honolulu, diving, snorkeling or fishing!

Kommol Tata!