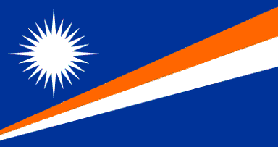 Getting Here:
Two major airlines Aloha Airlines and Continental now service the Marshall Islands. Many visitors stop in Majuro during their travels to another destination in the Pacific such as Bikini, Kosrae, Pohnpei or Chuuk. This can often be done with no additional cost depending on the type of ticket you hold.

Entry Requirements:

Visas are not required for visitors staying for less than 30 days. Visitors permits are issued upon arrival. Visitors must have a valid passport and must possess an onward air or sea ticket.

Currency:
The official currency in the Marshall Islands is the US Dollar. Credit cards are accepted at the major hotels and some restaurants. It is prudent to have cash for souvenirs and extras while traveling within the Islands.

Departure Tax:
$20 US, subject to change.

Clothing:
The weather is warm and the dress is casual in the Marshall Islands. As with many Pacific Islands, when away from the dive boat and in the villages women need to wear a wrap around their bathing suits. It is considered offensive to bare your thighs in public. For men slacks and Hawaiian type shirts for formal occasions. Shorts or light pants, loose shirts or T-shirts for normal wear. For women light cotton dress, skirts or sarongs with blouses or t-shirts are the most comfortable way to dress.

Language Spoken:
English is spoken and understood by almost everyone here.

Tipping:
Tipping is accepted at establishments (crew gratuities not included in group packages)

Communication:
While on Majuro there is International Telephone service and Internet. While on the outer islands there is limited telephone system. The boat at all times is reachable from our shop via radio.

Travel Insurance:
It is always a good idea to consider travel insurance when traveling to distant destinations. Lost baggage, cancelled flights and delays are all part of international travel. A good insurance policy will greatly relieve any stress involved and help you get your moneys worth during the journey. We offer Travel Guard insurance; you can access their Internet site via our Links page.

Enjoy your travels!